Customized VISIONAIRE◊ Knee Replacement
When it comes to a customized knee replacement, your implants and your surgery are tailored completely to your unique knee anatomy. This can allow you to experience a new knee joint that fits your needs as closely as possible using the latest in orthopedic technology.
The process begins with MRI and X-ray images. Using the information from your MRI and X-rays with VISIONAIRE◊ Patient Matched Technology, we can form a 3-D model of your knee.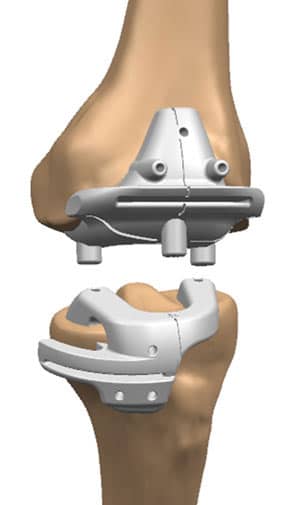 Source: Rediscover Your Go
The 3-D model will then help our board-certified orthopedic surgeons and custom joint replacement specialists, Dr. Jonathon Printz and Dr. Ryan Kehoe, formulate a surgical plan based on a precise and exact vision of the affected area of your knee. 
Customized knee replacements are ideal for patients affected by osteoarthritis and arthritis. This procedure will help restore more natural strength and function to the knee and give the patient a more active lifestyle with fewer limitations.
The 3-D model of your knee will help to determine the correct size of the implant and precisely where it needs to be placed based on your knee alignment. With VISIONAIRE, your knee imaging and model will also be used to design and build surgical instruments customized for your unique knee anatomy and your specific surgical plan.
Skillfully utilized by Dr. Printz and Dr. Kehoe, these streamlined instruments offer several advantages for patients, including:
Faster recovery time 
Less time in surgery
Smaller incision and a less invasive procedure
Less postoperative pain
More secure and longer-lasting implant
To find out more about customized knee replacement using VISIONAIRE technology, call to schedule an appointment with Dr. Printz or Dr. Kehoe or request an appointment online.