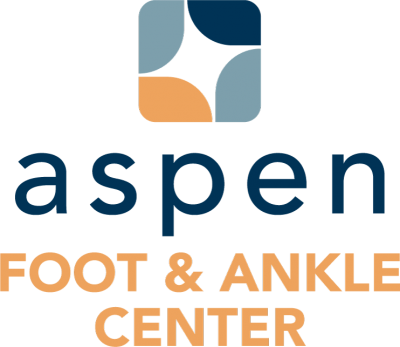 Built through the combined expertise of our foot and ankle surgeons, our Foot & Ankle Center provides our patients with the most up-to-date, safe, and effective treatment programs to relieve their symptoms, get stronger, and get back to doing what they love.
Our foot and ankle doctors at Aspen Orthopedic Specialists are both board-certified, fellowship-trained podiatrists specializing in the latest, evidence-based ankle and foot care.
From bunions to ankle arthritis, our specialty-trained podiatric surgeons offer the comprehensive foot and ankle treatment you need and the compassionate care you deserve.
Helping our patients resolve their foot or ankle pain or limitation is the sole focus of our dedicated Foot & Ankle Center. Through comprehensive patient education, our podiatric medicine doctors are dedicated to making sure our patients understand their condition and available treatments so they are prepared for every step of the process.
From Shin to Toe and Everything in Between
As surgeons trained in podiatry, Dr. Sean Wilson and Dr. Robby Amiot see every foot and ankle injury and condition. Whether you've injured your big toe or you're dealing with heel pain or a bad sprain, our experts are here for you.
Through our dedicated Foot & Ankle Center, our podiatrists offer coordinated treatment for all your medical and orthopedic foot and ankle needs, including: 
Ankle instability
Arthritis
Corns, calluses, ingrown toenails, and plantar warts
Diabetic foot care
Deformities, such as bunions, flat feet, hammertoes, and high arches
Fractures, including ankle trauma and stress fractures
Inflammatory conditions, such as gout and metatarsalgia
Heel pain and bone spurs in the heel
Nerve conditions, including neuromas and tarsal tunnel syndrome
Sports-related injuries, such as Achilles tendon ruptures, ankle sprains, and plantar fasciitis
Tendonitis (tendinitis), including Achilles tendonitis and sesamoiditis
Whatever your injury or condition, our podiatrists will work closely with you to provide comprehensive, personalized treatment plans. They are board-certified in foot surgery as well as rearfoot and ankle surgery. Additionally, our doctors have fellowship training in advanced management of diabetic lower extremity disorders as well as trauma surgery for the forefoot, hindfoot, and ankle.
Our expert foot and ankle surgeons have the highest level of training in surgical and nonsurgical treatment options, including minimally invasive surgery, sports medicine, and interventional procedures, including:
Ankle arthroscopy
Bunionectomy (bunion surgery), including minimally invasive bunion surgery
Deformity correction and reconstructive surgery for the forefoot, hindfoot, and ankle
Endoscopic plantar fasciotomy
Fracture surgery and nonsurgical fracture care
Neuroma excision
Neuroma removal and transposition
Preventative diabetic foot care and surgery
Regenerative cell Injection therapies
Removal procedures for bone spurs, toenails, and ganglion cysts
Tendon and ligament repair
Treatment of plantar warts, including laser therapy for warts
From orthotics to state-of-the-art reconstructive ankle, forefoot, and rearfoot surgery, our podiatrists and specialized team will provide advanced, individualized care every step of the way. We also provide more information related to conditions and ailments, and their related treatments in our Online Guide to Foot and Ankle Care.
Ankle Problems? Foot Pain? Visit Our Foot & Ankle Center.
Our foot and ankle specialists are passionate about helping patients to relieve their pain and get back to work and activity. Dedicated to earning the trust and confidence of every patient to provide the right solution, our podiatrists listen closely to each patient in order to figure out a plan that will accomplish his or her treatment goal.
Appointment access within 24 and 48 hours is available, and we encourage you to ask any questions you have about your care during your visit with our podiatrists at our Brookfield, New Berlin, or Oak Creek locations.
To schedule a patient consultation with one of our Foot & Ankle Center doctors, please call (262) 395-4141 or request an appointment online.
A bunion, or hallux valgus, is a bony growth that develops over time at the base of the big toe. As this happens, the bump begins to push the bones of the big toe towards the second toe, leading to a foot deformity and more importantly pain. Since bunions will not improve on their own,
bunion surgery
may be recommended to treat them.
Plantar fasciitis
is a localized, degeneration of the plantar fascia, the tough, fibrous band of tissue that connects your heel bone to the base of your toes. The problem occurs at the site where the plantar fascia is attached to the bottom of the heel bone. It is the most common cause of heel pain, affecting more than three million people every year according to statistics.
There are a number of reasons why
ingrown toenails
occur, but improper nail trimming is one common cause. Other reasons include wearing shoes that crowd the toes or experiencing a foot injury where all or part of a nail is torn away from the underlying nail bed. Additionally, people with poor circulation or diabetes can also be at higher risk for an ingrown nail.
Shin splints, also known as medial tibial stress syndrome, refer to an overuse injury that causes pain and inflammation of the muscles, tendons, and bone tissue in the front of your lower leg. The pain is usually located on the inside portion of your lower leg between your knee and ankle. Such pain can be dull or severe and can resolve when resting in acute stages. When symptoms are prolonged, however, swelling of the lower leg and a worsening prognosis can occur.
Most people with problems in their feet or ankles won't need surgery. The decision whether to operate depends on a number of factors:
How bad your symptoms are (pain and the effect this has on your life)
Your needs
Your response to other treatments, including drugs, orthoses and special footwear.
Discuss these with your doctor, who will be able to advise you on whether surgery would be a suitable option.
After surgery, you may be non-weightbearing for a period of time, varying from a day or two to several months. The length of time will depend on the kind of surgery you had and the progress of your healing. Non-weightbearing means that your foot may not touch the floor, even in a splint or boot. Any weight put on the healing bones or joints will adversely impact your recovery.
Patient Success Stories
Happy to Be Back On Her Feet Again
"My overall experience working with Dr. Wilson has been amazing. Dr. Wilson always shows professionalism and care for his patients. Working with Dr. Wilson has been the best experience I've had as a patient working with a doctor. He's an excellent surgeon and passionate about his work. Overall experience a 5."
– Robin N.
Meet Our Foot & Ankle Center Doctors